GOLD for Mani Bläuel olive oil in New York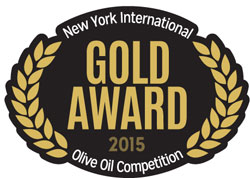 Cheers, joy, surprise –  were our reactions to the news that our Mani Bläuel "Greek Olive Oil" was awarded with gold at International Olive Oil Competition 2015 in New York (NYIOOC) for the second consecutive year. 700 olive oils from 25 countries were evaluated at the world's largest and most prestigious olive oil competition by a jury of experts – and our Greek olive oil received a Gold Award.
"We are proud of our team, because such a prize is due to a terrific team effort, where all parties contribute to the excellent quality of our olive oils, from the farmers to the quality inspectors. Thanks to all for that", says our junior manager Felix Bläuel.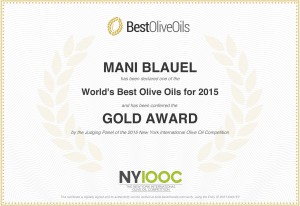 Our goal is to make the most of the precious natural ingredients, gently processed in the traditional way. Only if we are sure of the excellent quality of our products we offer them to our customers. Renowned international awards such as the NYIOOC Gold Award confirm our high quality standards and inspire us to continue to do our best. For our oil, this means that our customers can rely on consistently excellent standards confirmed by juries worldwide.
What makes our oil so special? – Appreciation of man and nature are the basis of our economic activity, and it shows in the taste. Organic farming and fair terms for our partners and employees are very important to us. Then there are the ideal growing conditions for our olives in Mani, as well as a dedicated and qualified team that contributes to the excellent quality of our products. All these factors make Mani Bläuel olive oil so unique.
More information about our olive oil can be found here:
– About our wide range of olive oil
– The traditional olive cultivation
– For gentle processing of olive oil
– To our strict quality control
Information about the award:
http://www.bestoliveoils.com/brands/mani-blauel/
http://www.bestoliveoils.com/producer/friedrich-blauel-co-ltd/