"Free from" but full of flavour
"Free from", vegan, organic and fair: our organic olive products are suitable for each nutritional requirement and bring the flavour of the Greek sun in all kitchens!
Best quality of raw materials, gentle processing practices and traditional recipes guarantee 100% natural enjoyment – free from preservatives, flavour enhancers or artificial additives. The products are lactose / gluten-free, vegan and organic.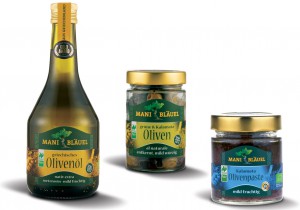 "We give our valuable natural products the time they need to reach their full flavor. The addition of artificial additives is not an option for us. Our Kalamata olives ripen naturally on the tree and are only harvested when they have reached the right colour, dark purple to black", says junior manager Felix Bläuel. All Mani Bläuel table olives are processed traditionally: gently harvested and debittered naturally in sea-salt brine, following the Greek tradition. "So the precious natural ingredients, such as the polyphenols that contribute as antioxidants for cell health and have anti-inflammatory effects, are retained " explains Nikos Mavroidis, Quality Manager at Mani Bläuel. "We believe in100% natural. Preservatives are taboo for us. The immediate packaging after processing in airtight jars or the packaging in olive oil makes the Mani Bläuel olives naturally durable ", adds Mr. Mavroidis.
Whether for vegans, vegetarians, raw foodists, or omnivores – the organic brand Mani Bläuel offers a variety of fine products for every nutritional type: excellent olive oils, olive products and spicy Greek appetizers and specialties.
The high-quality products from Mani Bläuel offer Mediterranean holiday feeling all year round. In the summer for barbecues, picnics or at parties – for salads, marinades, spreads, or appetizers. In the winter for cooking and refining sauces, casseroles and baking. All olive oils, olives in olive oil and al naturale are in raw food quality. Most olive products bear the Naturland Fair seal.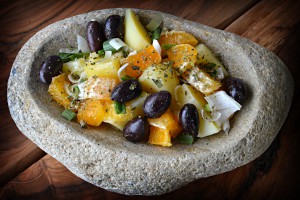 You can find a great summer recipe for a delicious Mani salad with orange, potatoes, olives, capers and olive oil here.