Traditional Greek Christmas sweets "Kourabiedes"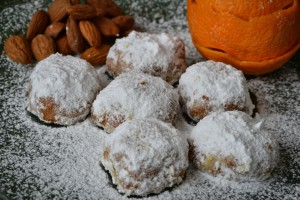 Christmas is coming and with it finally the time for baking. In addition to classics like butter cookies and vanilla biscuits at Bläuel we also like to peck at traditional Greek holiday pastries as Kourabiedes. These are fine almond biscuits from the best local produce, prepared in the Mani with the best olive oil. Olive oil gives particularly good results also when used in sweets, it's cheaper than butter and it contains vegetable fatty acids good for our body. Generally it can replace butter in all recipes, used in quantities corresponding to ¾ of the amount of butter. For sweet recipes, one should prefer mild-tasting olive oils, such as our Mani Bläuel Greek olive oil.
Kourabiedes can rival other kinds of fragrant, melt-in-your-mouth cookies, like shortbread – one is reminded of them actually, but instead of the the classic vanilla  taste, in Kourabiedes the emphasis is on fine almonds and gentle olive oil. They are a particularly well-suited match for  Greek coffee. This is drunk traditionally bland and with little to no sugar. A perfect addition to any Christmas coffee table! If you are now curious to try the Greek almond biscuits with your family, you will find the recipe here: Recipes
The Bläuel family and team wish you good luck and a beautiful Christmas season.
Traditionelles griechisches Weihnachtsgebäck "Kourabiedes"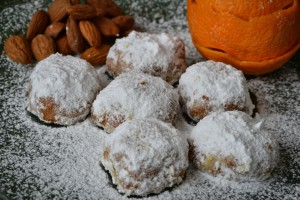 Weihnachten naht und damit auch endlich die feine Zeit zum Backen. Neben den Klassikern wie Butterkeksen und Vanillekipferln naschen wir bei Bläuels auch gerne traditionelles griechisches Feiertagsgebäck, wie Kourabiedes. Das sind feine Mandelbiskuits aus besten regionalen Zutaten, die in der Mani mit bestem Olivenöl zubereitet werden. Olivenöl ist zum einen ergiebiger als auch günstiger als Butter und durch die ausschließlich pflanzlichen Fettsäuren besonders gut für den Körper. Generell kann man in allen Rezepten die herkömmliche Butter durch ¾ und pflanzliche Öle mit derselben Menge an Olivenöl ersetzen. Dabei sollte man auf mild schmeckende Olivenöle achten, wie z.B. unser Mani Bläuel griechisches Olivenöl. Die Kourabiedes machen sich prima neben anderen Plätzchenköstlichkeiten – erinnern sie doch vom Geschmack her an den Klassiker Vanillekipferl, nur eben mit mehr Betonung auf feinen Mandeln und sanftem Olivenöl. Die süße Köstlichkeit schmeckt besonders gut mit griechischem Mokka. Dieser wird traditionell ungewürzt und mit wenig bis gar keinem Zucker getrunken. Eine perfekte Ergänzung auf jeder weihnachtlichen Kaffeetafel! Wenn Sie jetzt auch neugierig auf das griechische Mandelgebäck geworden sind und Lust haben es mit Ihrer Familie auszuprobieren, finden Sie hier das Kourabiedes Rezept: Rezeptservice

Die Familie Bläuel und Team wünschen Ihnen gutes Gelingen und eine schöne Adventszeit.
Mandelbiskuit "Kourabiedes"