Spring in the Mani
Spring has reached us in its full glory – the most beautiful season of the year. Not only the olive groves and fields are green, not only the air is warm but also carpets of flowers have spread everywhere. This period lasts till the beginning of May.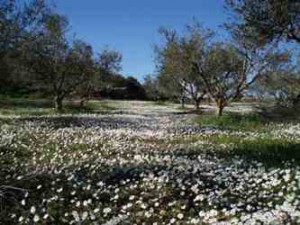 For the beginning of spring we also have a special Springtime Offer in our e-shop for you. The three Fruit Oils with Lemon, Orange and Ginger from the current harvest 2015/2016.
Although probably spring is coming a bit later to your country, you can already bring a bit of spring in your kitchen with these three unique, naturally flavoured organic olive oils!
With the following Greek Easter recipe Chalva (Halva) we would like to send you spring greetings from the Mani.
Greek Easter Recipe: Chalva (Halva)
Although the Orthodox Easter in Greece is celebrated in May, in the German-speaking countries Easter is just around the corner. In Germany, Easter is celebrated on the first Sunday after the spring full moon. The celebrations of the Greek Orthodox Church are oriented according the Julian calendar.

Chalva in Greece is a typical dessert for Lent. It's very quick and easy to prepare. The ingredient list is the evidence:
1 cup of MANI Bläuel extra virgin olive oil with orange
2 cups of coarse semolina, 
3 cups sugar (we recommend Rapadura) and
4 cups of water.
Optional: spices (cloves, cinnamon, orange zest….).
Done.
Preparation: heat water, sugar and spices in a saucepan and let boil for 5-10 minutes, until a syrup is formed. Meanwhile, in another pan, heat olive oil and add the semolina. Sauté lightly until it is a light golden brown, stirring constantly with a wooden spoon.
Add the slightly cooled water and sugar syrup. Bring to a boil and simmer for about 5 minutes.
Our tip: at this point, almonds or chopped walnuts can be added. Remove from the heat and cover with a tea towel and leave to 'rest' for a further 15 minutes. Place the cooked chalva in a mould.
Leave to cool completely before turning out onto a plate for serving.
Decorate with chopped nuts or cocoa powder.
We wish you a happy springtime,
yours Bläuel family and team
Der Frühling in der Mani
Der Frühling hat hier voll eingesetzt – die schönste Zeit des Jahres beginnt jetzt – denn nicht nur sind die Olivenhaine und Felder grün, wie satte Weiden in Österreich, nicht nur ist es sonnig frühlingshaft warm, jetzt kommen auch all die berühmten Blumenteppiche zum Vorschein, diese Phase dauert bis Anfang Mai.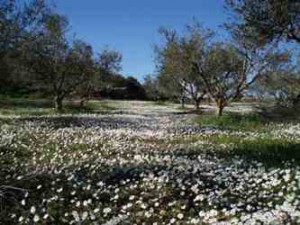 Zum Frühlingsanfang haben wir auch ein Frühlingsagebot in unserem Webshop für Sie. Die drei Fruchtöle mit Zitrone, Orange und Ingwer aus der aktuellen Ernte 2015/2016. Auch wenn der Frühling in Ihrem Land eventuell noch etwas auf sich warten lässt, können Sie sich mit diesen drei einzigartig, natürlich aromatisierten Bio-Olivenölen ein bisschen Frühling in Ihre Küche holen!
Mit dem Rezept der griechischen Ostern-Spezialität Chalva (Halva) schicken wir Ihnen Frühlingsgrüße aus der Mani:
Griechisches Osterrezept: Chalva (Halva)
Zwar wird das orthodoxe Osterfest in Griechenland erst im Mai gefeiert, aber im deutschsprachigen Raum steht Ostern quasi schon vor der Tür. In Deutschland wird das Osterfest immer am ersten Sonntag nach dem Frühlingsvollmond gefeiert. Die Feiertage der griechisch-orthodoxen Kirche orientieren sich hingegen am julianischen Kalender.
Chalva ist in Griechenland eine typische Süßspeise in der vorösterlichen Fastenzeit. Es ist so schnell und einfach in der Zubereitung, dass sich hier der Spruch eingebürgert hat: "Wer bis Vier zählen kann, kann auch Chalva machen." Die Zutatenliste ist der Beweis dafür:
1 Tasse MANI BLÄUEL Olivenöl mit Orange, nativ extra,
2 Tassen (Vollkornweizen-)Grieß,
3 Tassen Zucker (wir empfehlen Rapadura) und
4 Tassen Wasser.
Fertig.
Zubereitung: Wasser, Zucker und Gewürze nach Belieben (bspw. Nelken, Zimt oder geriebene Orangenschale) für 5-10 Minuten in einem Topf kochen bis ein Sirup entsteht. Währenddessen in einer Pfanne das Olivenöl erhitzen und den Grieß hinzugeben. Bei mittlerer Hitze unter ständigem Rühren den Grieß goldgelb rösten. Den fertigen Sirup (Gewürze ggf. entfernen) vorsichtig portionsweise unter den Grieß mischen und weiter rühren bis eine dickliche Masse entsteht.
Unser Tipp: Geschälte Mandeln oder gehackte frische Walnüsse zufügen. Den Chalva-Teig in eine Form gießen und abkühlen lassen. Mit gehackten Nüssen oder Kakaopulver verzieren.
Eine frohe Frühlingszeit wünscht Ihnen
Ihre Familie Bläuel und Team
GOLD für Mani Bläuel Olivenöl in New York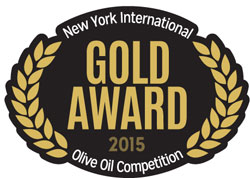 Jubel, Freude, Strahlen – so waren unsere Reaktionen auf die Nachricht, dass unser Mani Bläuel "griechisches Olivenöl" bei der International Olive Oil Competition 2015 in New York (NYIOOC) zum zweiten Mal in Folge mit dem Gold Award ausgezeichnet wurde. 700 Öle aus 25 Ländern wurden bei dem weltweitgrößten und prestigeträchtigsten Olivenöl Wettbewerb von einer Expertenjury bewertet – und unser griechisches Olivenöl erhielt den Gold Award.
"Wir sind stolz auf unser Team, denn solch ein Preis ist einer grandiosen Teamleistung zu verdanken, bei der alle Beteiligten zur ausgezeichneten Qualität unserer Öle beitragen, von den Bauern bis hin zu den Qualitätskontrolleuren. Danke dafür!", freut sich unser Junior-Geschäftsführer Felix Bläuel.
Unser Ziel ist es, das Beste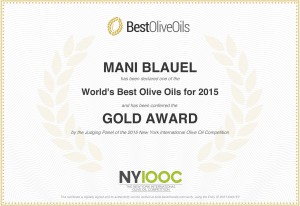 aus den wertvollen natürlichen Zutaten herauszuholen, indem wir sie schonend auf traditionelle Art verarbeiten. Nur wenn wir von der hervorragenden Qualität unserer Produkte überzeugt sind, bieten wir sie unseren Kunden an. Renommierte internationale Ehrungen wie die Gold Auszeichnung beim NYIOOC bestätigen unseren hohen Qualitätsanspruch und spornen uns an weiterhin unser Bestes zu geben. Für unser Öl bedeutet das, dass sich unsere Kunden auf einen konstant hervorragenden Standard verlassen können, der von Fachjurys weltweit bezeugt wird.
Was unser Öl so besonders macht? – Wertschätzung von Mensch und Natur sind die Basis unseres wirtschaftlichen Handels, und das zeigt sich auch im Geschmack. Der ökologische Anbau und die faire Bezahlung unsrer Kooperationspartner und Mitarbeiter liegen uns sehr am Herzen. Dazu kommen die idealen Anbaubedingungen für unsere Oliven in der Mani, sowie ein engagiertes und qualifiziertes Team, das zur ausgezeichneten Qualität unserer Produkte beiträgt. Alle diese Faktoren machen das Mani Bläuel Öl so einzigartig.
Mehr Informationen zu unserem Olivenöl finden Sie hier:
Informationen zum Award:
http://www.bestoliveoils.com/brands/mani-blauel/
http://www.bestoliveoils.com/producer/friedrich-blauel-co-ltd