Spring in the Mani
Spring has reached us in its full glory – the most beautiful season of the year. Not only the olive groves and fields are green, not only the air is warm but also carpets of flowers have spread everywhere. This period lasts till the beginning of May.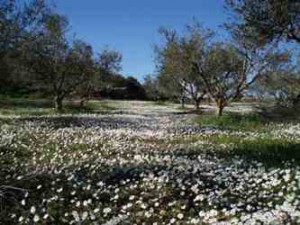 For the beginning of spring we also have a special Springtime Offer in our e-shop for you. The three Fruit Oils with Lemon, Orange and Ginger from the current harvest 2015/2016.
Although probably spring is coming a bit later to your country, you can already bring a bit of spring in your kitchen with these three unique, naturally flavoured organic olive oils!
With the following Greek Easter recipe Chalva (Halva) we would like to send you spring greetings from the Mani.
Greek Easter Recipe: Chalva (Halva)
Although the Orthodox Easter in Greece is celebrated in May, in the German-speaking countries Easter is just around the corner. In Germany, Easter is celebrated on the first Sunday after the spring full moon. The celebrations of the Greek Orthodox Church are oriented according the Julian calendar.

Chalva in Greece is a typical dessert for Lent. It's very quick and easy to prepare. The ingredient list is the evidence:
1 cup of MANI Bläuel extra virgin olive oil with orange
2 cups of coarse semolina, 
3 cups sugar (we recommend Rapadura) and
4 cups of water.
Optional: spices (cloves, cinnamon, orange zest….).
Done.
Preparation: heat water, sugar and spices in a saucepan and let boil for 5-10 minutes, until a syrup is formed. Meanwhile, in another pan, heat olive oil and add the semolina. Sauté lightly until it is a light golden brown, stirring constantly with a wooden spoon.
Add the slightly cooled water and sugar syrup. Bring to a boil and simmer for about 5 minutes.
Our tip: at this point, almonds or chopped walnuts can be added. Remove from the heat and cover with a tea towel and leave to 'rest' for a further 15 minutes. Place the cooked chalva in a mould.
Leave to cool completely before turning out onto a plate for serving.
Decorate with chopped nuts or cocoa powder.
We wish you a happy springtime,
yours Bläuel family and team