Traditional Greek Christmas sweets "Kourabiedes"
19.11.2015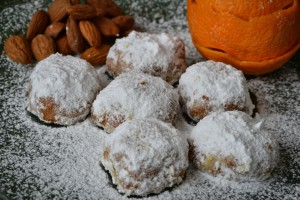 Christmas is coming and with it finally the time for baking. In addition to classics like butter cookies and vanilla biscuits at Bläuel we also like to peck at traditional Greek holiday pastries as Kourabiedes. These are fine almond biscuits from the best local produce, prepared in the Mani with the best olive oil. Olive oil gives particularly good results also when used in sweets, it's cheaper than butter and it contains vegetable fatty acids good for our body. Generally it can replace butter in all recipes, used in quantities corresponding to ¾ of the amount of butter. For sweet recipes, one should prefer mild-tasting olive oils, such as our Mani Bläuel Greek olive oil.
Kourabiedes can rival other kinds of fragrant, melt-in-your-mouth cookies, like shortbread – one is reminded of them actually, but instead of the the classic vanilla  taste, in Kourabiedes the emphasis is on fine almonds and gentle olive oil. They are a particularly well-suited match for  Greek coffee. This is drunk traditionally bland and with little to no sugar. A perfect addition to any Christmas coffee table! If you are now curious to try the Greek almond biscuits with your family, you will find the recipe here: Recipes
The Bläuel family and team wish you good luck and a beautiful Christmas season.